The Val Venosta lies between the mighty main Alpine ridge and the Ortler massif: it is bounded to the north by the sunny and warm Sonnenberg, to the south by the forested, shady Nörderberg and includes the Etschtal Valley from the Reschen-Pass amidst high mountains to Castelbello further downstream. There is something for every cyclist here, from the valley floor to the high peaks, for leisure cyclists, hill climbers, downhill fans and pass enthusiasts, with plentiful tours and services too! The valley's
flora and fauna
is as varied as the landscape itself: extensive apple orchards and vineyards, old chestnut groves, vivid mixed woodlands, dry slopes with oaks, cool coniferous forests, gentle pastures, steep summits, quiet mountain lakes – all can be experienced on two wheels!
Leisure cyclists can enjoy the 80-kilometre cycle way from Malles to Merano/Meran that runs gently along the River Etsch down the
Via Claudia Augusta
.
Mountain bikers and downhillers
will prefer the slopes on either side of the river, with well-marked trails of all degrees of difficulty running through valleys and forests up to pastures and high mountains. Road bikers can tackle the many mountain roads: the Stilfersjoch pass road, with its 48 bends, is particularly popular and each year the
Stilfserjoch Bike Day
at the end of August sees the road closed to motor traffic.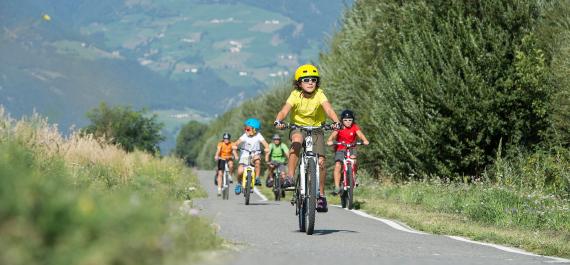 Reasons for cycling in the Val Venosta
The cycling season in the Val Venosta runs from (very) early spring to (very) late autumn.
Routes range in altitude from 200 to 3,000 metres.
There are tours for every type of cyclist: leisure cyclists, mountain bikers, road bikers, E-bikers, downhillers.
Services for cyclists in the Val Venosta include bike-friendly accommodation, guided tours, bike shuttles, lift facilities, shops, refreshment stations and places to rest along the way.
Mor than 300 sunny days a year.