The area of Merano and environs includes the Passeiertal and Schnalstal Valleys to the north, the Ultental Valley to the southwest and the Burggrafenamt area to the south. To the east it is bounded by the Sarntal Alps, to the west by the Venosta Valley, to the south by Bolzano and environs and to the north by Austria. Whether up among 3000-metre peaks or down in the valleys, every area of Merano and environs is suited to walking. Apple orchards cover the valley floor while ice covers the summits. There are Waalwege (paths along ancient irrigation channels), high-level trails, summit tours and promenades: something for everyone, from adventurous treks to leisurely strolls, and all in the midst of a Mediterranean climate and atmosphere.
The valley bowl around the city lies at an altitude of 260 metres. Its southern vegetation contrasts with the mighty peaks above. The Merano/Meran
high-level trail
, South Tyrol's longest, is a demanding tour of the Texel Group
nature park
! Ancient farms await walkers in the Ultental Valley, where the Schwemmalm is the starting point for numerous marked trails of every degree of difficulty. The Spronser Seen lakes and the Timmelsjoch Pass above the Passeiertal Valley are ideal for walking, while the Schnalstal Valley features a historic atmosphere, steep glacier walls and the site where Ötzi the Iceman was found, best seen on the
Ötzi Glacier Tour
. Merano and environs form an area marked by contrasts, where empty wildernesses meet an elegant city atmosphere and Mediterranean flora adjoins high Alpine landscapes. Yet there prevails a unique harmony through which walkers can calmly stride.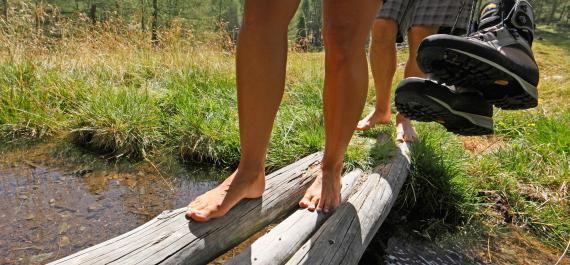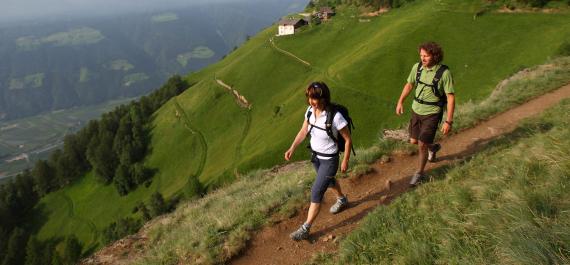 Good reasons for walking in Merano and environs:
the walking season runs from spring to late autumn
mild climate prevails throughout the year
a Mediterranean city atmosphere adjoins an Alpine glacier landscape
unspoilt valleys and an imperial spa town
South Tyrol's largest nature park