Stunning rock formations tower up from a carpet of lush green meadows. Rugged rock walls rise next to dark forests. Landscapes speckled with Alpine roses reach up to icy peaks. Not for nothing have the
Dolomites
been declared a
UNESCO World Natural Heritage
site. This region boasts nature that is unique in the world, where the fertile and flourishing meets the barren and wild. Potatoes thrive in the valleys with high-quality vegetables and grain, while the fields are bounded by bushes that are home to numerous species. Alder and birch, but especially spruce and pine trees mingle in the landscape. Above the tree line can also be found mountain pines and flowers. And, further above on the cliff walls, every evening sees the rays of the sun dance and the most famous Alpine walls glowing a fiery red.
Nature gives of her best in the Dolomites, making a mirror for the mountains in the turquoise Pragser Wildsee Lake, creating habitats for numerous animal species through the
diversity of the flora
: rodents, amphibians, as well as birds of prey such as golden eagles can all be found. All
five nature parks
possess an inspiring natural charm: Schlern-Rosengarten, Puez-Geisler, Fanes-Sennes-Prags, Rieserferner-Ahrn and of course the Drei Zinnen, the symbol of the Dolomites. At their feet rises the River Rienz, which then meanders through the Puster Valley. The quirks of nature can be seen in the "ice holes" at San Giorgio, in the earth pyramids at Terento or Collepietra and at the peak of the Hochleist, where glaciers have formed a rock pillar. Europe's largest Alpine pasture,
the Seiser Alm
, features undulating carpets of meadows. Colossal, powerful, even weird: the Dolomites are simply enchanting.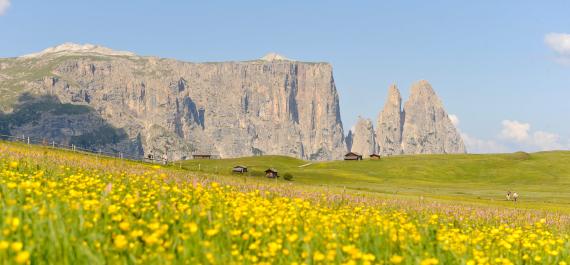 The highlights of nature in the Dolomites:
everything is there, from glaciers and barren highlands to lush green meadows
Europe's largest high Alpine pasture, the Seiser Alm
a total of five nature parks
enormously diverse flora and fauna
the Alpenglow
numerous mountain peaks and massifs
culture integrated with nature