The horseshoe-shaped Sarntal Alps form the northern limit of Bolzano and environs, an area that extends down via Bozen/Bolzano and Lake Kaltern to where the valley narrows at Salorno. This region is characterised by the vineyards and apple orchards that extend up the mountain slopes. There are also cypresses, mixed woodlands and a Mediterranean climate to be found here, as well as numerous castles and historic stately residences. The undulating valley is as ideal for walking as the steep slopes and hilltops along its flanks.
Castle walks, wine trails, circular tours around lakes and even promenades for strollers; there are also some 80 fixed-rope routes and high-level trails for the more adventurous. The twin peaks of the Weisshorn (2,300 metres) and Schwarzhorn (2,439 metres) to the south can easily be reached from the Jochgrimm Pass, while the Weisshorn can also comfortably be scaled from the village of Aldino. At its foot, the area's geological features are explained on the Geo trail in the
Bletterbach gorge
. The Mendel Pass is a cool summer resort from which Monte Roen can be climbed, while above the Ritten plateau rises the Rittner Horn with its amazing panorama. The Sarntal Alps soar skywards, with the Hirzer reaching 2,781 metres, and there are numerous other walks in the area. Castelfeder, situated on a porphyry hill in the Unterland, is ideal for relaxing, walking or exploring its ruins. Bolzano and environs are ideal for walks both long and short!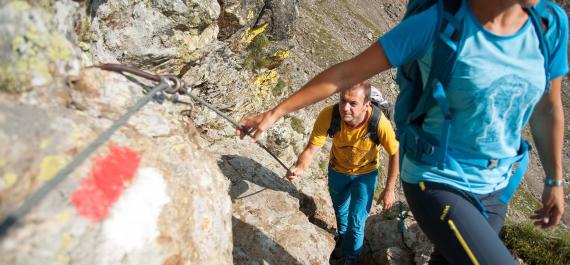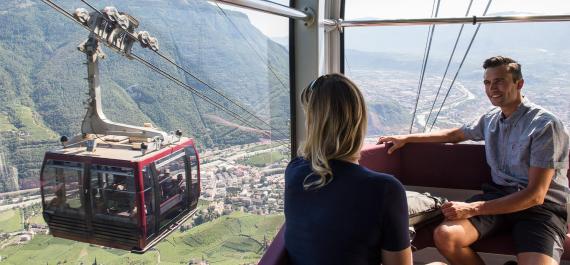 Reasons for walking in Bolzano and environs:
the area boasts 300 sunny days a year
the walking season begins early in February and ends late in November
the lush green vineyards are as well suited for walking as the peaks and ravines
80 vie ferrate (fixed rope routes)
Italy's Mediterranean climate creeps north over the borders