The Val Venosta offers green valley landscapes, fruit & vegetable growing and grain fields, as well as the dry slopes of the Sonnenberg mountain. It is both broad and tall: from below in the valley where apples and apricots hang from fruit trees, the Ortler, South Tyrol's highest peak, soars skywards along with numerous others to create a stunning mountain panorama. At the far western end of the valley stands the quiet medieval town of Glorenza – the smallest city in the Alps – with its impressive walls. Another emblem of the Val Venosta is the "white gold", marble from Lasa.
Parks and mountains, lakes and cities

To the south west of the region the Stilfserjoch National Park offers the most beautiful and varied walking in the Val Venosta, while to the northwest, near to the border with Austria, there is the Reschen Lake with its – literally – outstanding steeple. From there the River Etsch flows down to Glorenza, where the
cycle way
follows the historic trade route of the Via Claudia Augusta, past the bare Sonnenberg with its unique flora, further on past early Romanesque churches to the
spa town of Merano/Meran
, and on to Bolzano/Bozen.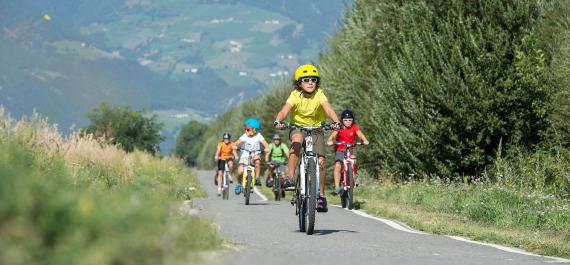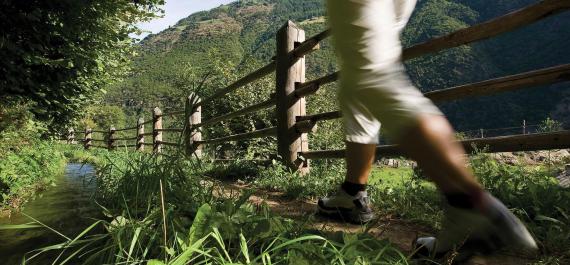 Cultural epochs and mountain worlds

Holidaymakers in the Val Venosta can also visit museums and exhibitions, castles and forts: the "Ortler" and "Juval" Messner Mountain Museums present mystical and frozen mountain worlds, while the Churburg Castle is a witness to the bygone Middle Ages and shows its unique collection of historic weapons and armour. The natural and the manmade combine in a special way at the typical Alpine huts, which offer delicious local delicacies and spectacular mountain panoramas. And where all is green in summer, in winter (LINK intern: Vinschgau Winter) everything is wrapped in white:
walkers
and
cyclists
can then enjoy skiing, winter walks or tobogganing.
The Val Venosta has many faces and boasts 315 days a year on which the sun shines!